Tsymtsba K. D., Donchenko M. V.
Kharkiv National University of Economics
STRATEGIC PLANNING PROBLEM IN UKRAINIAN COMPANIES
One of the main goals for enterprise development is to reach the long-termed competitive advantages. It provides high profit rate and stable economic growth. High level of competitiveness could be ensured by keeping existent positions and searching new facilities. Thus, the corporate strategy is very important part of its successful activity. Properly selected strategy helps to choose right tendency of its development, adapt its activity to permanent environment conditions, and obtain certain advantages.
The choice of this subject to study is caused by growing importance of strategic planning for different companies. Hard work and reaching goals are useful but it is strategy that makes or breaks a company. But what does the notion 'strategy' mean? The term 'strategy' has been defined in a variety of ways, but almost always with a common theme that of a deliberate conscious set of guidelines that determines decisions into the future.
Corporate strategy is concerned with its peculiarity, values, goals, objectives and financial conditions. According to these and some other specific factors corporate strategy could be suggested.
Most of our domestic companies ignore strategic planning. They don't consider it as a necessary tool for their effective activity. As a result they are more exposed to impact of external factors. On the contrary companies that use strategy as the main tool of long-termed planning are less liable to influence of such factors.
According to annual researches of Advanter Group only about 25% of Ukrainian companies introduce strategic planning. Other companies consider strategy to be the theoretical conception only.
There are several approaches to strategic planning in Ukrainian companies (Fig. 1).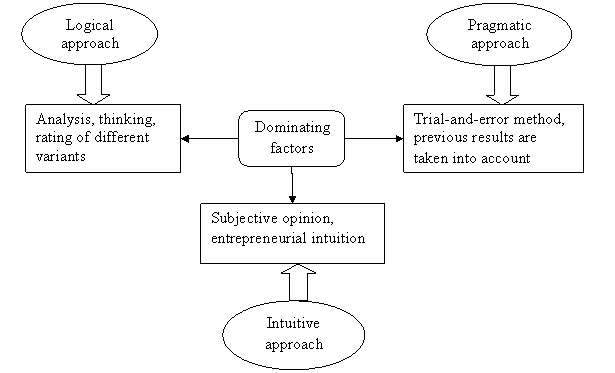 Fig. 1. Strategic planning approaches
According to these approaches it's possible to mark out some strategic methods, which are used by national companies in the network of strategic planning:
-  company's activity is based on efficient and clear strategy;
-  the main ideas and goals are formulated by top leader (commonly the owner of business); his inadequate experience could be destroying for the company;
-  strategy is considered as an interests compromise of different authoritative internal forces;
-  companies don't have clear strategy and usually operate with short strides;
-  these companies are flexible enough and they can easily adapt to variable environment conditions.
To sum up, there are different approaches to strategic planning in Ukrainian companies, which don't consider strategic planning as so important part of their activity. As a result sometimes it's hard for them to adapt so quickly to sudden changes of external conditions, which can be destructive for their further existence. Consequently Ukrainian companies have to review strategic planning as one of the main components of effectiveness, growth and stable development.